Overview
Edit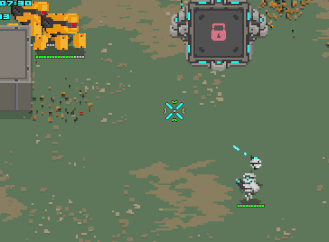 Gatling is a Probe Weapon that fires bullets rapidly. The bullets shot do not have travel time. After the probe has emptied the Gatling's clip, it must be reloaded. The ultra provides this weapon extra knock back. For some reason, the weapon is able to attack multiple Enemies that are grouped together (as seen in GIF).
This weapon deals a decent amount of damage, but its projectiles do not have travel time, making this weapon good against Enemy 23's small and quick drones. The reloading time never goes down, unless coupled with the charger. The ultra for this weapon is very good at keeping the enemies away from the player, even small and quick enemies can't reach the player unless the Gatling is reloading.
Level Bonuses
Edit
Each Core Upgrade will grant this Probe Weapon:
Upgrading this Probe Weapon with an Ultra Chip will allow it to push back Enemies as it attacks.
Charger will give attack speed and decrease reload time, increasing the weapon's damage output.
Ad blocker interference detected!
Wikia is a free-to-use site that makes money from advertising. We have a modified experience for viewers using ad blockers

Wikia is not accessible if you've made further modifications. Remove the custom ad blocker rule(s) and the page will load as expected.